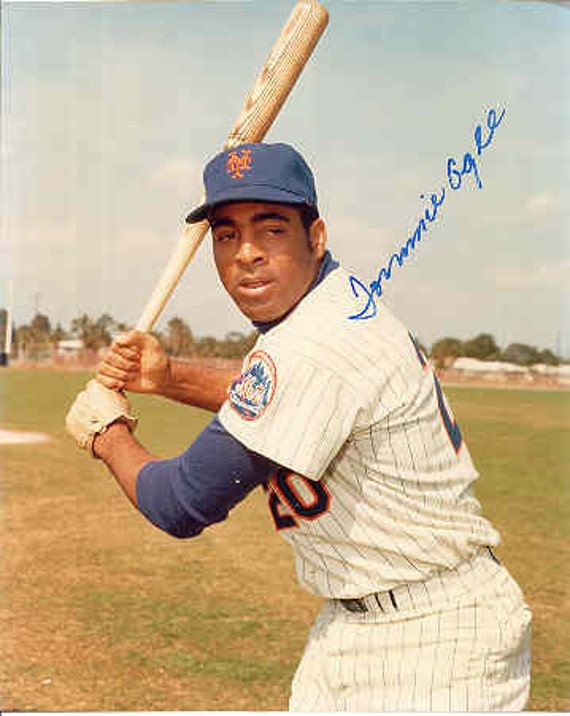 This week's Smallthoughts:Old School Tuesday is back to my roots as a Met fan. Tommy Agee and Cleon Jones were the reasons I became a Met fan in the first place back in the summer of 1969. Many current Met fans don't even know who Tommy Agee was or how good he was for that matter and how important he was to the Mets raising one of two world championships.
Tommy Agee is noted for making two of the greatest catches in World Series history, both of which took place in game three of the 1969 World Series.
1969 World Series
Agee batted .357 with two home runs and four RBIs in the Mets' three game sweep of the Atlanta Braves in the 1969 National League Championship Series. The Mets were heavy underdogs heading into the World Series against the Baltimore Orioles. In Game 3, with the series tied 1-1, Agee had what Sports Illustrated called the greatest single performance by a center fielder in World Series history. In the first inning, Agee hit a leadoff home run off Jim Palmer for what would eventually be the game-winning hit and RBI, as the Mets shut out the Orioles, 5-0. In the same game, Agee also made two catches that potentially saved five runs.
Smallthoughts:Old School Tuesday spotlights…Tommy Agee.
MLB debut
September 14, 1962, for the Cleveland Indians
Last MLB appearance
September 30, 1973, for the St. Louis Cardinals
MLB statistics
Batting average
.255
Home runs
130
Runs batted in
433
Teams
Career highlights and awards