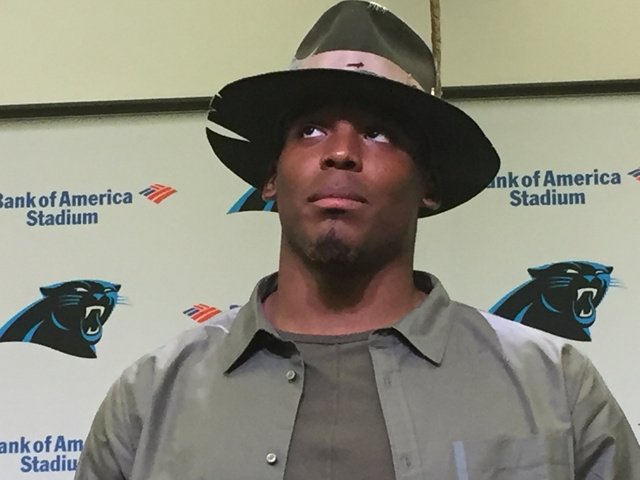 Cam Newton is quite an athlete a blend of speed and size and an arm as quarterback of the Carolina Panthers. For all his talents on the football field I am not thrilled with his comments off it. Hence this week's rant of the week. Check out his quote …
"Illegal hits for me start in the pocket," Newton said Wednesday. "It is funny how a lot of people have a lot to say. I know when I am running the football I am on my own. I understand that. I'm not a dummy or oblivious to the fact that I run the football more than any quarterback who has ever played this game. I mean, duh. I'm fine with that.
"In the pocket, that's all I'm asking for, just to get … the same calls, that's all."
Newton said after his call with the commissioner he had a positive vibe.
"Anytime you're being heard, obviously, with a person of his magnitude, I respect that," Newton said. "I just wanted to be efficient of his time and make sure I got my point across. I believe I did. … We ended on good terms. We started on good terms as well. Nothing changes."
It's one thing to voice your opinion when asked if you think players take shots at your knees, it is quite another when you say you are taking your concerns to NFL Commissioner Roger Goodell. One you are not a small framed man, second you are not the only quarterback that gets their share of cheap hits reigned on them ask…Ben Roethlisberger of the Pittsburgh Steelers have you ever seen the hits he takes , yet he doesn't go to the commissioner and cry about it does he?
By the way Cam if you have a problem with the hits you get …maybe have a talk with your offensive line about pass protection. Also Newton seems to be forgetting that up until recently ….
During his first four seasons in the league, Newton benefited from 22 roughing-the-passer penalties against the opposition, according to NFLpenalties.com. However, since the start of the 2015 season no defender has been called for roughing the passer on hits to Newton — at least not a penalty that cost the opponent yards.
So many instead of whining and coming across like a cry baby he should take his hits like a man and maybe hold his offensive linemen accountable for the lack of protection when he is hit in the pocket. For someone eho is very aware of his public image he comes across looking rather weak on this one.