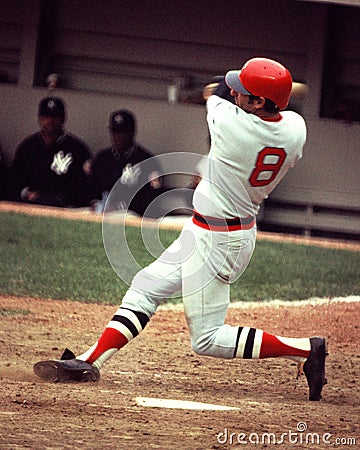 He was the man with the bat held high in the air which in his later years, he adjusted his stance and held the bat lower. He was also known for modifying his batting helmets by enlarging the right ear hole (for comfort) and removing part of the right ear flap (for better vision of the ball as it was being pitched)., he was the man who followed a Boston legend in Ted Williams and became one himself …he is Carl Yastrzemski or best known to Boston fans as …Yaz! What else can be said about a legend? He played his entire career with the Boston Red Sox. (23 years).
Look closely at the pictures and you see something very unique by today's standards, Yaz didn't wear batting gloves at that time.
He was primarily a left fielder, but also played 33 games as a third baseman and mostly was a first baseman and designated hitter later in his career.Yastrzemski is an 18-time All-Star. He won seven Gold Gloves, a member of the 3,000 hit club, and the first American League player in that club to also accumulate over 400 home runs. He is second on the all-time list for games played, and third for total at-bats. He is the Red Sox' all-time leader in career RBIs, runs, hits, singles, doubles, total bases, and games played, and is third on the team's list for home runs behind Ted Williams and David Ortiz.
In 1967 Yastrzemski achieved a peak in his career, leading the Red Sox to the American League pennant for the first time in over two decades and being voted the 1967 American League MVP. Yaztrzemski also won the Triple Crown that year, a milestone which was not accomplished again in the Major Leagues until Miguel Cabrera achieved the feat 45 years later in 2012.
As of the 2014 baseball season, on the all-time lists for Major League baseball, Yastrzemski ranks at #1 for games played for one team, #2 for games played, #3 for at-bats, #6 for bases on balls, #8 for hits, #8 for total bases, #8 for doubles, and #13 for RBIs.
Smallthoughts: Old School Tuesday spotlights a Boston Legend …Carl Yastrzemski aka Yaz.
MLB debut
April 11, 1961, for the Boston Red Sox
Last MLB appearance
October 2, 1983, for the Boston Red Sox
MLB statistics
Batting average
.285
Hits
3,419
Home runs
452
Runs batted in
1,844
Teams
Career highlights and awards