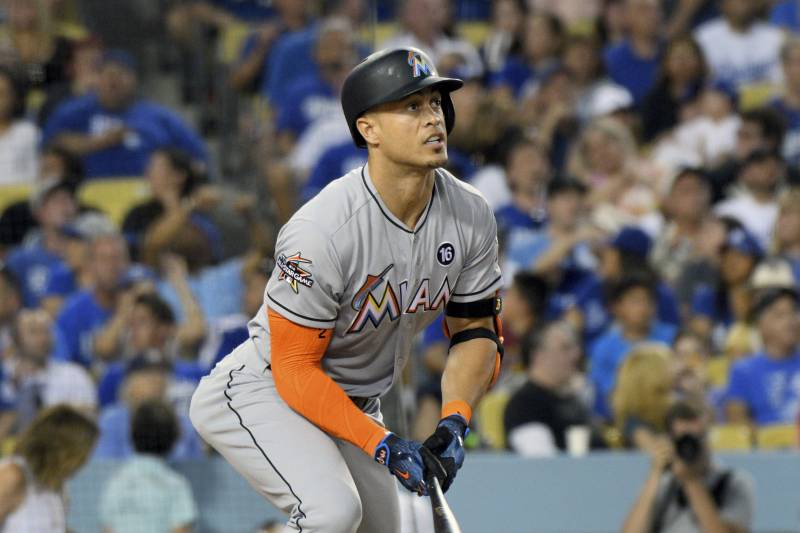 There are days when you as a Met fan scream to high heaven as to why can't the Mets make moves like this. It stinks being a Met fan in a Yankee world. No matter what the Mets do or in this case didn't do the Yankees seem to do it and boom blow the Mets clean out of the water. The Yankees have added the 2017 National League MVP Giancarlo Stanton to their team of thumpers Gary Sanchez and Aaron Judge. Thanks to Derek Jeter he the Yankees a huge favor took nothing back so now every Met fan going to be hearing all year from Yankee fans …
Look at their lineup with Stanton board:
1. Brett Gardner, LF
2. Didi Gregorius, SS
3. Giancarlo Stanton, DH
4. Aaron Judge, RF
5. Gary Sanchez, C
6. Greg Bird, 1B
7. Aaron Hicks, CF
8. Gleyber Torres, 2B
9. Chase Headley, 3B
Maybe the only up side is that I don't have to see Stanton hit moonshots out of Citifield 19 times a year in Queens but he is going to be hitting home runs 81 games a year …in the Bronx. This deal made me sick but the Yankees gave up NOTHING absolutely NOTHING to get Stanton…what? Starlin Castro and 2 low level prospect who may or may not make it up the minor league ladder for a reigning MVP??? What happened to vetoing a trade for the good of baseball?? Where is Bowie Kuhn when you need him? The Yankees have earning the rep of being called the Evil Empire …The Empire strikes Back …UGH!
Worse …The team in Queens …The Mets did NOTHING to weigh in on this trade because …we don't want to added that much money to our payroll. So you let the Yankees who didn't need Stanton get him on the cheap. Weigh in maybe drive up the price to where even if the Yankees make the deal it will hurt just alittle. Instead the Mets are shopping at the low level basement while the Yankees are shopping at Naiman Marcus …
Sandy do something !!!