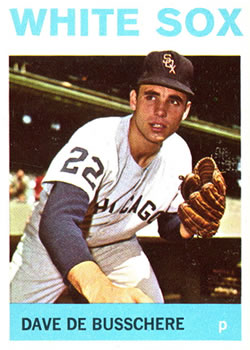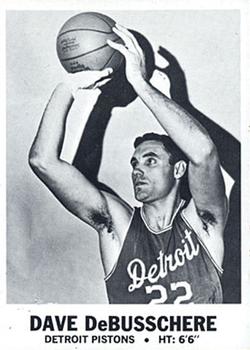 Dave Debusschere played for both the NBA and Major league baseball. He was a pitcher for the Chicago White Sox and starred in the NBA for both the Detroit Pistons and the New York Knicks.
In 1962, DeBusschere was signed by the Chicago White Sox as an amateur free agent. He was a pitcher for the White Sox from 1962–63. He pitched a shutout on August 13, 1963, against the Cleveland Indians, giving up six hits, one walk and striking out three. In 22 career at bats, he had only one hit, a single off Bennie Daniels on July 17, 1963. He pitched in the White Sox minor league system for two more seasons before giving up pitching to focus on both playing and coaching basketball.
DeBusschere was selected by the Detroit Pistons in 1962 NBA draft as a territorial draft selection. During his rookie season, he averaged 12.7 points and 8.7 rebounds per game, and was later named to the NBA All-Rookie Team. However, DeBusschere was injured during his second season and only played in 15 games, resulting in the Pistons finishing with a disappointing record of 23-59.
In the 1964–1965 season, at the age of 24, he was given the position of player-coach for the Pistons, and thus became the youngest-ever coach in league history. However, this stint as coach was not successful and he became a full-time player. During the 1968–1969 season, DeBusschere was traded to the New York Knicks for Walt Bellamyand Howard Komives.
DeBusschere, along with future Hall of Famers Willis Reed, Bill Bradley and Walt Frazier, became an NBA champion when the Knicks defeated the Los Angeles Lakers in the 1970 NBA Finals. With Earl Monroe in the backcourt, they became champions again in 1973, beating the Lakers 4-1 in the finals.
DeBusschere was elected to the Naismith Memorial Basketball Hall of Fame in 1983 after a 12-year career (1962–1974) in which he averaged 16.1 points and 11 rebounds while being named to eight NBA All-Star teams. He became a member of the NBA 50th Anniversary All-Time Team in 1996. He was renowned for his physical style of play and tenacious defense, and he was named to the NBA All-Defensive first team six times.
DeBusschere retired as a player in 1974, the next year DeBusschere became the ABA's commissioner for the 1975–76 season, its last. DeBusschere helped bring about the merger between the NBA and the ABA that year.[9] He was later the assistant coach and director of basketball operation of the Knicks during the 1980s, when he drafted fellow Knicks legend Patrick Ewing, the first overall selection in 1985.
Smallthoughts: Old School Tuesday spotlights …Dave Debusschere.
Career highlights and awards
Career NBA statistics
Points
14,053 (16.1 ppg)
Rebounds
9,618 (11.0 rpg)
Assists
2,497 (2.9 apg)