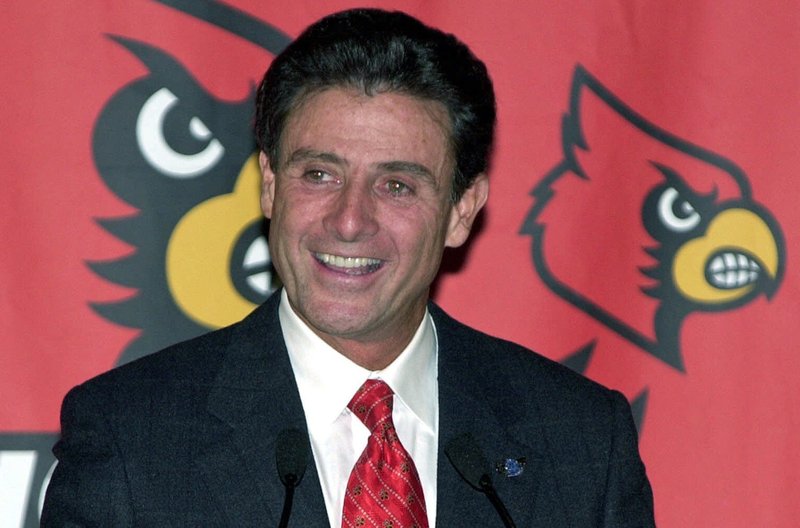 In the wake of a  sex scandal the University of Louisville has to vacate their 2013 NCAA Championship …and that banner you see in the picture above has to come down. Yet it's former head coach in their championship run swears he knew nothing about what happened at the dorm and suggest that Louisville sue the NCAA and not give it the Championship. All of that would sound wonderful if you can believe that a coach who knows everything about every player on his team that he recruited.
"To say I'm disappointed with the NCAA's appeals ruling is a gross understatement," he said. "The NCAA cannot rewrite history by taking a banner down. Our players won those games by outplaying outstanding opponents, and to say I'm proud would also be an understatement."
"Anybody who lies is a fool," Pitino said. "Because the truth is going to come out." "I feel awful for what has happened," Pitino said. "I've run a clean program all my life."
"I had no knowledge of the reprehensible things that went on in that dormitory," he said. "Did a few of them partake in parties they didn't organize? Yes they did. But that had nothing to do with an extra benefit. That nothing to do with helping their eligibility or performance in winning that championship. My heart is broken and shattered for them, our fans and our great university. It serves no purpose now for me to argue the unjust ruling of the committee members. … I hope the university will not give up its fight and follow suit and take this injustice to the courts and filing an injunction for that banner not to come down."
So now Louisville has to be without it's 2013 championship…and there is more …Louisville must vacate 123 wins — every game it won from the 2011-12 through the 2014-15 seasons — and all of its N.C.A.A. tournament appearances during that period, including its 2012 and 2013 trips to the Final Four and the 2013 national championship. It also must forfeit about $600,000 in tournament payouts from those seasons. Yet it's coach during that time knew nothing …hard to believe. For his sake I hope he is telling the truth but why do I think  he isn't telling the truth?
Pitino denied all knowledge of these activities, and last year the N.C.A.A.'s committee on infractions did not disagree. But it still found that Pitino had failed to monitor his staff for compliance with N.C.A.A. rules, and it imposed several penalties on the program, including a five-game suspension for Pitino, on top of sanctions that Louisville had preemptively imposed on itself.
So Louisville also thought even if Pitino said he knew nothing , they felt he was still responsible. It's his program he is in charge and he has to know what his staff is in step for NCAA rules. His failure cost him his job his legacy and it cost Louisville a national championship and more.