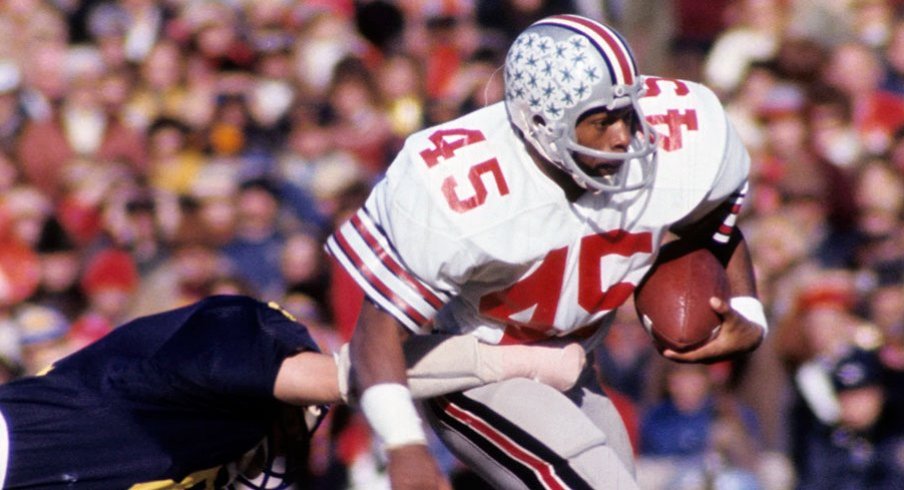 In 1972, Griffin was a T-formation halfback, and from 1973 through 1975, he was the team's I-formation tailback. He led the Buckeyes in rushing as a freshman with 867 yards, but his numbers exploded the following year with the team's conversion to the I-formation. He rushed for 1,428 yards in the regular season as a sophomore, 1,620 as a junior, 1,357 as a senior. Griffin is the only back to lead the Big Ten Conference in rushing for three straight years. Overall, Griffin rushed for 5,589 yards on 924 carries in his four seasons with the Buckeyes (1972–1975), then an NCAA record. He had 6,559 all-purpose yards and scored 26 touchdowns. In their four seasons with Griffin as their starting running back, the Buckeyes posted a record of 40-5-1. Griffin is one of only two players in collegiate football history to start four Rose Bowl games, the other being Brian Cushing.
As a junior at Ohio State Archie Griffin was named to every All-American team and was called "the greatest football player I've ever coached" by Woody Hayes. Combining power, speed and an uncanny ability to break four or five tackles on a single play, he smashed the all-time record for running backs in the Big Ten, amassing 4,064 yards. As a senior, Archie extended his record of consecutive 100-yards plus games to 31, his overall yardage to 5,176 and became the only player ever to win the Heisman twice.
Smallthoughts: Old School Tuesday spotlights…Archie Griffin.
Career highlights and awards