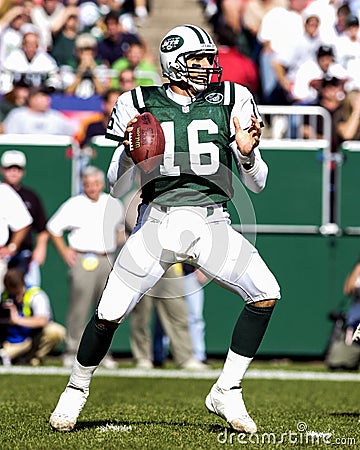 Being a Jet fan is rough, being a Jet fan in the same division as the Patriots is a rough as it gets, yet nothing hurts more than not having a quarterback that you can rally around or feel you have a chance to win with. That is way this week's Smallthoughts: Old School Tuesday is about two former Jet QBs …Vinny  Testaverde  and Chad Pennington. Yes Jet fans there has been times when this franchise has had some good quarterbacks since Joe Namath left the building all those decades ago.
Testaverde was drafted by the Tampa Bay Buccaneers first overall in the 1987 NFL Draft. After leaving as a free agent, he signed with the Cleveland Browns and was among the personnel transferred to the newly created Baltimore Ravens during a controversial attempt to relocate the Browns. He then joined the New York Jets, where he achieved his greatest success. In the last four seasons of his career, he played with the Dallas Cowboys, the Jets for a second time, the New England Patriots, and the Carolina Panthers for one year each.
His professional career was principally characterized by its longevity, lasting a remarkable 21 seasons, playing with seven different teams. However, despite being in the top 10 for most career passing statistics (8th in career passing yardage, 12th in career touchdown passes, 9th in career completions), Testaverde was not a notably successful quarterback in terms of wins and losses. His 123 losses as a starting quarterback is an NFL record, and his career regular season winning percentage of .423 is the lowest of any quarterback with at least 70 wins. Testaverde's 90 wins are the most for any quarterback with more losses than wins. He played in five postseason games in his NFL career with a record of 2–3.
Smallthoughts: Old School Tuesday spotlights…Vinny Testaverde.
Career history
Career highlights and awards
Career NFL statistics